Neurodynamic Online Breathwork
Where: Zoom
Meeting ID: 817-6776-0852
Passcode: 342764
When: Sunday Nights
December 3rd
January 7th
February 4th
Price: FREE! Donations are accepted.
Venmo @Deb-McCurtain
Breathwork Facilitator: Debra McCurtain, Certified Neurodynamic Breathwork Online Facilitator. Contact info: Text:530-613-1586 or Email:debramccurtain@gmail.com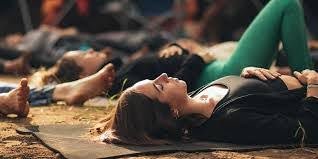 What is Breathwork?
It is an ancient healing ritual of breathing. Many cultures use breath as a tool for self-discovery and transformation. The breath is life force energy.
The Chinese refer to it as "Chi" meaning air and the energy of life. The Hindu refer to it as "Prana" a life-giving force that is universal energy which flows in and around the body. The breath is the doorway into the subconscious mind where stuck energy lies.
Basically, you get on a mat or sit up in a chair or in your bed. Put on an eye mask. Listen to loud music and breathe. Your soul does the rest.
Stuck energy is released from the body in a variety of ways and that is the magic of breathwork. In the words of Stan Grof whose Breathwork Legacy is taught and practiced all over the world states,
" A special kind of healing occurs during breathwork. That it accelerates the healing of the self. Breathwork allows us to have experiences that connect us to our authentic being or our source. When we bring this connection back into our daily lives and integrate it we can live with a richer sense of purpose and empowerment. " – Grof
If planning to attend, please complete the registration form below. Deb